Recommended Reading: D. & S. Preble,
Artforms
(2004, 7th

edn

., 2004)
Text & CDROM: CL N7430

Dis

2003.
Lois

Fichner-Rathus

,
Understanding Art
(7th

edn

, 2004) Text & CD-ROM: CL N7430.5

Fic

2004.
Web Links:
Art, Design & Visual Thinking
: http://char.txa.cornell.edu/language/element/element.htm
Notebook
: http://www.noteaccess.com/ELEMENTS/index.htm
Digital Web Magazine-Elements of Design
: http://www.digital-web.com/articles/elements_of_design/
Digital Web Magazine-Principles of Design
: http://www.digital-web.com/articles/principles_of_design/
Most introductions to the elements of visual art adopt an approach similar to Acton's. Some of their basic distinctions are given below.
VISUAL ELEMENTS
Line: "our basic means for recording and symbolizing ideas, observations, and feelings" (Preble 41).
Properties: length, width. Types: actual, implied. Functions: to outline & shape; to create depth & texture; to suggest direction & movement (Fichner-Rathus).
Ex. 19 Different kinds of lines
<![if !vml]>

<![endif]>
Image source: Elements of Design http://valeciaia.tripod.com/elements.html
Ex. 20 Variations on a line
<![if !vml]>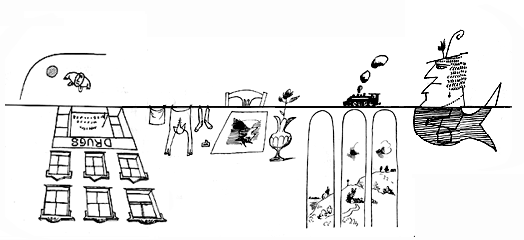 <![endif]>
Image source: http://char.txa.cornell.edu/language/element/element.htm
Shape: "the expanse within the outline of a two-dimensional area" (Preble 44).
Shape: Types: geometric (rectilinear, curvilinear), organic, amorphous.
Figure-ground reversals: "Gestalt scientists have noted that shapes can be ambiguous, so as to encourage figure-ground reversals" (Fichner-Rathus 43).
Ex. 21 Figure-ground reversal: A Rubin vase
<![if !vml]>

<![endif]>
Image source: http://esa.ackleyshack.com/ndb/museum.html
Mass: "the physical bulk of a solid body of material" (Preble 46).
Space: "The visual arts are sometimes referred to as spatial arts, because in most of these arts, forms are organized in space" (Preble 49.
Perspective: "any means of representing the appearance of 3-dimensional objects in space on a 2-dimensional surface" (Preble 51). "The linear perspective system was developed during the Italian Renaissance" (51). "Recognition of eye level–the height of the viewer's eyes above the ground plane–is basic to the ability to see and draw objects and spaces in terms of linear perspective" (Preble 3rd edn., 66).
Ex. 22 Linear Perspective
<![if !vml]>

<![endif]>
Image source: http://faculty.evansville.edu/rl29/h340/f05/renaissancepainting.html
Time & Motion: "Although time itself is invisible, it can be made perceptible in art" (Preble 56).
Implied motion: "the viewer infers that motion is occurring or has occurred" (Fichner-Rathus 64).
Ex. 23 Marcel Duchamp, Nude Descending a Staircase, 1912
<![if !vml]>

<![endif]>
Image source: http://surrealists.classifieds4u.co.uk/viewPicture/73/
Light: "Colour, direction, quantity, and intensity of light…" (Preble 61).
Local colour is defined as the hue of an object as created by the colours its surface reflects under normal lighting conditions. Optical colour is defined as our perceptions of colour, which can vary markedly with lighting conditions (Fichner-Rathus 52).
Colour: "varies in 3 basic ways: hue (wavelength of spectrum), value (relative lightness or darkness), and intensity" or saturation (Preble 3rd edn, 85).
Ex. 24 Hue, Value, Saturation
<![if !vml]>

<![endif]>
Image source: http://www.digital-web.com/articles/elements_of_design/
Primary hues: red, yellow, blue. Secondary hues: orange, green, violet. Intermediate hues: red-orange, yellow-orange, yellow-green, blue-green, blue-violet, red-violet (Preble 65).
Pointillism: "When dots of pure colour are placed together … they blend in the mind, creating the appearance of other hues" (Preble 3rd edn, 88).
Common colour schemes: monochromatic (single hue, varying values & intensities); analogous (colour-wheel neighbours); complementary (colour-wheel opposites); polychromatic (many hues).
Ex. 25 Analogous colours
<![if !vml]>

<![endif]>
Image source: http://photoinf.com/General/Robert_Berdan/Composition_and_the_Elements_of_Visual_Design.htm
Texture: "refers to the tactile qualities of surfaces or to the visual representation of such qualities" (Preble 69).
Texture refers to the surface characteristic of materials as experienced primarily through the sense of touch (or its visual equivalents). "Actual texture is tactile … Simulated texture in a work of art is referred to as visual texture … Subversive texture compels the viewer to look again at an object (or an image) and to think about it more deeply" (Fichner-Rathus 55-57).
Ex. 26 Meret Oppenheim, Object , 1936
<![if !vml]>

<![endif]>
Image source: http://www.moma.org/ecards/write_ecard.php?object_id=80997
PRINCIPLES OF DESIGN (COMPOSITION)
Unity & Variety: "Unity is the appearance or condition of oneness, variety provides diversity" (Preble 72).
Balance: "the achievement of equilibrium, the condition in which acting influences are held in check by opposing forces" (Preble 75).
Emphasis & Subordination: "Emphasis is used to draw our attention to an area or areas… Through subordination, an artist creates neutral areas of lesser interest" (Preble 80).
Directional Forces: "paths for the eye to follow provided by actual or implied lines" (Preble 80).
Contrast: "is the juxtaposition of strongly dissimilar elements" (Preble 82). Contrast can be employed in relation to several elements such as hues, shapes, and brushstrokes.
Repetition & Rhythm: "The repetition of visual elements gives a composition unity, continuity, flow, and emphasis … Rhythm refers to any kind of movement or structure of dominant and subordinate elements in sequence" (Preble 82).
Scale & Proportion: "Scale is the size relation of one thing to another. Proportion is the size relationship of parts to a whole" (Preble 84).