Amir Khan: In Memoriam
Born on August 15, 1912 at Akola, in Maharashtra, Ustad Amir Khan passed away on February 13, 1974 at Calcutta in a strange and tragic car accident. In a life-span of over sixty years, he spent almost forty years as a vocalists in Hindustani classical music. He developed a unique style of singing that is now known as the 'Indore Gharana'.

Although born in Maharashtra, Khansaheb spent his childhood at Indore in Madhya Pradesh. This place was inhabited by his ancestors and several generations had migrated from Kalanaur in Haryana, and settled in Indore under the patronage of the State. His father Shah Amir shifted to Indore when Ameer Ali was barely two years old. Ustad Shahmir was an accomplished Been and Sarangi player. Amir Ali loved his father so much that later on he built a house in the 'Bambai Bazaar' area in Lane number 3, and named it 'Shahmir Manzil'. Every year he used to spend a few months in this house.

Amir Ali's mother passed away when he was nine years old and Shahmir Khan had to take the responsibility of the entire family. By then he had begun to teach music – vocal and sarangi - to both Amir Ali and his younger brother Bashir. He used to take them to various musicians from their 'baradari'. On one such occasion, as soon as they entered the house of a relative, 'talim' to the pupils was stopped suddenly and the notebooks were closed promptly. Out of curiosity, Shahmir opened one notebook and found notations of the 'Merukhand' gayaki. Someone snatched away the notebook and shouted, 'This is not for sarangi players, so what is the use of reading it?' Shahmir Khan left the house with his children and decided to reply by training one of his sons in the 'Merukhand' gayaki. This was not easy since this gayaki was very difficult. What was this gayaki and how was it sung?

Merukhand Gayaki

This gayaki is also known as Merkhand, Khandmeru, Sumerkhand or Meerkhand. This is a composite word: Meru + Khand. The word 'Meru' has many meanings: Merumani (name of a precious stone); Meruparvat (name of a mountain); Merudand are well known words. 'Meru' means 'sthir', 'achal', non-moving, fixed or steady; and 'Khand' means section. In the present context, 'Meru' means fixed swars (notes) in a given raga. These notes can be arranged in many different ways using the theory of permutations and combinations. If there are only two swars, e.g., Sa and Re in a given raga, then only two combinations SaRe and ReSa are possible. If there are three, then six different combinations are obtained. Proceeding thus, for seven notes in a raga such as Bhairavi, 5024 combinations [factorial seven] could be written down mathematically. Musicians aspiring to learn this 'Merukhand'-gayaki are trained to remember all these combinations by heart and study these structures constantly. He or she is also trained to select a few of these combinations during performance and make a beautiful design of the composition within the framework of the chosen raga. This method is extremely difficult and Amir Ali's father began to teach him after the above-mentioned insulting incident. Considering his tender age, in the beginning this 'talim' lasted for less than one hour a day. Later, when young Amir Ali began to like it, the 'talim' continued for longer durations. Soon he could remember the 'Merukhand' designs of three/four swaras. For over five/six years, he learnt only 'sargam', 'alankar' and 'palte' to get familiar with 'swar' ('swar-pehchan'). Then he was introduced to the 'Khayal' style of singing. When his voice was about to break at puberty, his father reduced the vocal 'talim' and began to teach him the sarangi. After 'Jummeki Namaz', on every Friday, there used to be a music concert in his house where many stalwarts would sing or play. These included Ustad Rajab Ali Khan, Ustad Nasiruddin Dagar, Beenkar Ustad Wahid Khan, Ustad Allah Bande, Ustad Jaffruddin Khan, Beenkar Ustad Murad Khan, and Sarangi Nawaz Ustad Bundu Khan.

Amir Ali learnt a lot through these concerts while he also assimilated the 'Merukhand' gayaki. He came to Bombay around 1934 at the age of twenty-two. He gave a few private concerts and also cut five/six records with the 'Gramophone Company'. These records were issued under a plum coloured label with his name 'Amir Ali, Indore'. The December 1934 catalogue of the gramophone company carries a special page on his records with a photograph. In this photograph, he is seen wearing a white turban and has 'talwar' cut moustache. Later, both the turban and moustache disappeared as seen in the more well-known photographs of later years.

This catalogue praises him and his gayaki in the following words:

'Professor Amir Khan Saheb's name is associated with the classical music. He has earned many titles such as 'Sangeet Shiromani', 'Sangeet Sudhakar' and 'Sangeet Ratna'. Music lovers from various regions of India have competed with each other in awarding these titles to Amir Ali. One must listen to his music to get a cent-percent experience of the celestial joy and happiness of Indian classical music. He has sung raga 'Shyam Kalyan' with 'sthayi' on one side and 'jalad phirat' on the other side of the record. In short, Khan Saheb's record is a musical feast'.

VE 1002 Aaj So Bana – Bhag 1 & 2 – Shyam Kalyan [actually, Puriya Kalyan]

Aaj So Bana Ban Aayori, Lad Ladavan De,
Banreke Shir Sahera Motiya Biraje, Banarike Mana Bihave

The record catalogues of this period are full of praise and exaggeration. This was used for the publicity and as a marketing strategy. This of course helped the company in the promotion of its records. Amir Ali also recorded the following in the same session:

Multani (Dhola To Janam), Tarana in raga Todi, Hansadhwani (bhajan-Bhaj Mana Nit Harike Naam), Suha Sugrai (Charan Paran), Kafi (Lalan Aaye), Patdeep (Yeri Meri Aan), and Adana (Mohammad Shah Rangile).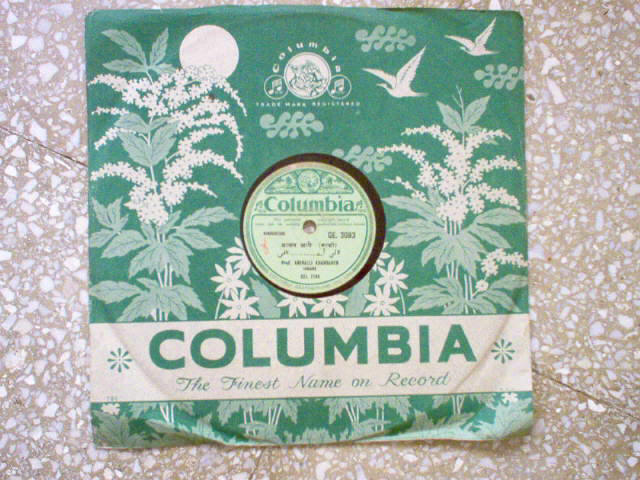 It is not clear whether these records were popular. It is also not known if they were reviewed/advertised in magazines and newspapers. The Gramophone Company has not re-issued them since they were first issued. They now remain in the hands of die-hard record collectors scattered all over India. Recently, Pandit Tejpal Singh (the elder of famous duo known as the Singh brothers), who was a senior disciple of Ustad Amir Khan, has written a book on his master in Hindi. He has reviewed these records with these words: 'The music on these records is quite different and shows the influence of the gayaki of Aman Ali Khan of Indore. He has sung in the 'safed teen' scale. The 'Sthayi' and 'Antara' are sung twice and in the beginning of each record. The Taans are fast and resemble those of Rajab Ali Khan'.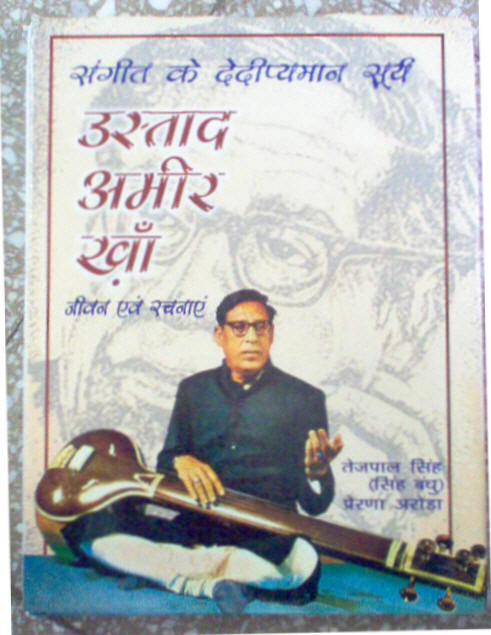 Sangeetke Daideepyaman Surya: Ustad Amir Khan – Jeevan Aevam Rachanaen (Kanishka Publishers, New Delhi, 2005)

Around 1935, several record companies (HMV, The Twin, Odeon, Jay Bharat, Broadcast, and Young India) recorded the music of the great stalwarts of Hindustani classical and light classical music. These include Professor Abdul Karim Khan, Pandit Omkarnath Thakur, Prof. Narayanrao Vyas, Prof. Shankar Rao Vyas, Prof. Aman Ali of Indore, Prof. Mallikarjun Mansoor, Sau. Heerabai Barodekar, Bai Sunderabai of Poona, Miss Susheela Tembe, Surshree Smt. Kesarbai Kerkar and Smt. Moghubai Kurdikar. These records were very popular in their time. Mr. Keshavrao Bhole reviewed some of them critically (under the pen-name 'Shuddha Sarang') in Marathi periodicals and magazines. However, there was no review nor reference nor even a mention of the records of Professor Amir Ali of Indore. What could be the reason behind this?

The making of Ustad Amir Khan

The 'Merukhand' gayaki was probably found too academic by the common listener and his concerts and the records were not very well-received in Bombay. Amir Ali returned to Indore. After the death of his father in 1937, he had to shape his career to support the family. He decided to change his singing style while keeping the 'Merukhand' gayaki at the center of his musical personality. Usually a classical music concert is divided into three parts: 'Vilambit' (slow) or 'ativilambit' singing followed by singing in 'Madhyalaya', and concluded with a 'drut' composition using fast taans. Amir Ali decided to find three gurus for these three sections. During his search, he found them in reverse order.

Ustad Rajab Ali Khan (1874-1959) of Indore knew Amir Ali since his childhood. He used to call him by 'Beta Amir'. Rajab Ali learnt initially from his father Mughal Khan, then he learnt Been from Bande Ali Khan and finally took lessons in the Jaipur gayaki from Ustad Alladiya Khan, Thus, his gayaki became rich with multiple influences. Listeners would say 'Ustad Rajab, Gate Gajab!'. Amir Ali learnt the style of 'drut' singing and very fast taans from Rajab Ali Khan and soon commanded a mastery over that style. Ustad Rajab Ali Khan admired him by saying that if you want to listen to the music of my young days, you should listen to Amir Khan.

Ustad Aman Ali Khan (1884-1953) of 'Bhendi Bazzar' gharana was known for his madhyalaya 'Merukhand' gayaki. Although he belonged to Indore, he used to live in Bombay near the 'Bhendi Bazaar' area. During the days of the British Raj, officers and residents used to live in spacious houses near the J. J. Hospital. This was located behind the open market (bazaar) and hence the commonly known address was 'Behind the Bazaar' that became known as 'Bhendi Bazaar'. Many musicians lived in this area. Thus the name 'Bhendi Bazaar' became associated with their style of singing and gharana.

Ustad Aman Ali Khan never sang 'ativilambit' or 'drut' gayaki. He had mastery over short taans with sargam in madhyalaya. He was also fond of Karnatic music and the raga Hansadhwani was his favorite. He taught Amir Ali for a number of years. Later on, Ustad Amir Khan used to sing Raga Hansadhwani in his concerts in memory of Ustad Aman Ali Khan. He has recorded 'Jai Mate Vilamb Tajde' on an LP record. In Karnatic music the composition 'Vatapi Ganpatim Bhajeham' is very popular. He also recorded a tarana in this raga – 'Ittihadesta Miyan Ne Mano To' [You (Allah) and me are one and the same]. This Pharsi verse contains a spiritual message of the one-ness between God and the devotee. This composition brought great fame to Amir Khan.

For vilambit/ati-vilambit or slow singing Amir Ali chose Ustad Abdul Wahid Khan (1882-1949) of the Kirana gharana as his model. Wahid Khan was the cousin of Ustad Abdul Karim Khan and the guru of Smt. Heerabai Barodekar. He was also known as 'bahire' Wahid Khan due to a hearing deficiency. He was an accomplished Beenkar too. His style of ornamentation and rendering ragas with the careful and delicate treatment of each swar was unique. Amir Ali met Ustad Abdul Wahid Khan very infrequently; he learnt his style less through personal contact than by listening to his radio programs. Ustad Abdul Wahid Khan used to sing in Jhumra Taal ['Jhum Raha' – means the rhythm that makes you swing] and Amir Ali also began to sing in this wonderful taal. He had an opportunity to sing in a private mehfil in which Ustad Abdul Wahid Khan was also present and the master appreciated his music.

Thus, with rigorous practice and deep thinking, Ustad Amir Khan Saheb began to emerge as a distinct musical personality. He got rid of his erstwhile turban and moustache and began to appear on concert stage with an uncovered head. This was quite a revolutionary step. If we recall the photographs of old musicians, we find that male musicians either wore a cap or a turban, and female musicians covered their heads with either the 'padar' or the 'pehlu' of their saree or dupatta respectivley. Soon, many musicians picked up his style, including Ravi Shankar, Ali Akbar Khan, Bhimsen Joshi and many others. Today, hardly any one covers his or head while performing at a concert.

Ustad Amir Khan's gayaki was a syncretic musical language, a kind of re-mix or fusion of several gayaki styles. It could be accepted and appreciated by music lovers as a mixture of the 'Jaipur', 'Kirana' and 'Bhendi Bazzar' gharana styles as inherent or latent in the 'Merukhand' gayaki. During his concerts, lovers of different gharanas could find something to their liking, and hence his experiment became quite successful. Thus, a new 'Indore' gharana emerged with Ustad Amir Khan. Smt. Prabha Atre has written, 'Although Sureshbabu Mane and Sau. Heerabai Barodekar taught music to me, I have always considered Ustad Amir Khan as my one of the gurus'. Pandit Bhimsen Joshi followed the same pattern. His style assimilated the Jaipur element of 'swar-lagao' and the 'taan kriya' of Amir Khan, thus creating another re-mix within the framework of his 'Kirana' gharana.

What were the specialties of the gayaki of Ustad Amir Khan?

Here is a list of some of them: 'shantiprad swarlagao', 'dhairyapurna gayan', 'sudh mudra' and 'sudh bani', ativilambit laya, meaningful pauses during singing, difficult but artful sargam, fast 'gamakyukta', surel and danedaar taan ranging in all the three octaves, khayal and tarana compositions consisting of Pharsi 'sher', verses and lyrics. He used a six stringed tanpura. He never engaged in any 'kusti' or 'akhadebaji' with the tabliya. He used to sing the 'sthayi' twice. He was six-feet tall, well-built, and would sit on the stage like a 'sadhu' or a 'yogi'. In a concert, he used to sing with eyes closed or half closed. His bandishes were chosen very carefully and had spiritual lyrics. His bandish in raga Lalat ('Jogiya More Ghar Aaye') is an excellent example which invokes a sage or a sadhu. It is interesting to note that when Hindu singers were singing 'Karim Tero Naam' (Malhar) and 'Alla Jane Alla Jane' (Todi), Amir Khan was recording compositions invoking Shiva, Hari and Rama (e.g., 'Bhaj Man Harike Naam' in Hansadhwani, and 'Jinke Mana Ram Birajae' in Malkauns). He also created the trend of continuous, uninterrupted singing of several ragas in succession during a concert. In this style, he would begin the concert with a raga and would not pause or stop after it was over. He would immediately begin the next composition in another raga. This would give a sense of continuity to his presentations.

Ustad Amir Khan witnessed the Royal patronage of music and also performed in the period when private concerts, music festivals, radio, cinema and gramophone records became the media that reached out to a wider public. Each medium demanded a different kind of skill, but he learnt and mastered each, and left his mark in all these media. As mentioned earlier, he never sang thumri or gazal in his concerts. He also did not sing or record the raga 'Bhairavi'. He used to say jokingly, 'Do you think that my musical career is over? If not, then how can I sing Bhairavi?' He did not like singing either a Bhairavi thumri or even a Bhairavi bhajan. He would say that Bhairavi is a 'Sampoorna' (complete) raga and must be treated like any other raga and sung accordingly. He used to sing this raga very rarely in the company of close friends. However, no recording of Bhairavi from him has been found yet.

Amir Khan as a gramophone singer

Around 1945-50, Amir Khan was one of the topmost and most sought-after vocalists in North India. He was invited to almost every important music conference. Naturally, both the gramophone companies and the music directors in Hindi/Bengali film industry approached him. With the bitter experience of the 78-rpm records made in 1935, Amir Khan was rather reluctant to commit himself to this medium yet again. G. N. Joshi of HMV was a great fan of Amir Khan's gayaki and would frequently attend his concerts. He tried to persuade Amir Khan to cut new records for the Gramophone Company. In his book Down Melody Lane (Orient Longman), G. N. Joshi writes,

'To obtain Amir Khan's agreement for the recording, I had to meet him, and therefore it was incumbent on me to visit his residence. I was greatly put off when I learnt about the locality where he stayed. I was afraid of what people would say if they observed me entering a house of ill repute. Any outsider would naturally draw his own conclusions, not knowing that an eminent singer was living in that building. If I had, out of fear or social stigma, refrained from going to visit Amir Khan, his great artistry would have gone unrecorded. The idea of securing his consent for recording together with a keen sense of duty prompted me to enter the building, eyes downcast, not looking about me till I entered Amir Khan's room on the third floor. Once in his room, I cheered up, and I talked to him for an hour or two. After that I visited him often. We exchanged views on music and gharanas, and such visits gave me opportunities to study his likes and dislikes. These visits also gave him confidence in me. After a couple of months and few such visits, he agreed to come for a recording. Some more time was lost in persuading him to agree to the terms of payment. Finally, this hurdle too was crossed. Yet Amir Khan went on canceling dates, giving fresh ones and then again postponing the recording on some flimsy grounds. I got fed up with his dilly-dallying and, in spite of my great regard and respect for him, I justifiably felt very annoyed. Ultimately one day I plucked up my courage and said to him, 'If I had approached 'God almighty' as many times as I have come to you, he would have blessed me, but all I can get from you is the promise of a future date.' Seeing my exasperation he became thoughtful, smiled a little and replied, 'Please do not disbelieve me. Name any day of this week and I will keep the appointment.'

'True to his word he came on the day I named, and I got from him his first long-playing disc. His favorite ragas were Marwa, Darbari Kanada and Malkauns. It is indeed rare these days to hear Raga Marwa as presented by Bade Gulam Ali and Amir Khan. His first LP was received with tremendous enthusiasm by the record-buying public. This delighted Amir Khan, and he was more than ready for another recording. In spite of this I had to put in a lot of effort and time to bring him to the studio again. This time he made an LP containing the ragas Lalit and Megh and this was all that could be obtained from him before he was lost to the world.'

This was in the year 1960. The LP record-cover for ragas Marwa and Darbari has a black and white photograph enclosed in an oval shape frame. Amir Khan wears a coat and rimless glasses and his portrait is quite pleasant-looking. The Marwa uses the vilambit bandish 'Piya mohe anant das' and the drut composition 'Gurubina gyan kaise paun'. His singing takes the listener to a spiritual world. In 1968, he recorded his second LP: raga Lalit (Kahan jage raat, Jogiya more ghar) and Megh (Barkha ritu aai and tarana). Its cover has a color-photograph with Khansaheb wearing a blue suit. In 1980, he recorded his third LP with his most favorite ragas – Hansdhwani (Jai mate vilamb tajde) and Malkauns (Jinke mana ram biraje). The photograph on the LP record-jacket shows Khansaheb wearing a white kurta and tuning his six string taanpura with eyes closed.

These LP records are collector's items today. Around 1960, he also cut one 78-rpm record on the HMV label (N 88319). It contains raga Shahana ('Sunder angana baithi') on one side and a tarana in raga Chandrakauns on the other side.

Today, a Google search with the key words 'Ustad Amir Khan' yields over 55,000 hits. A discography of his available records/recordings is available above and at:

http://www.pathcom.com/~ericp/ak_discography.html
Amir Khan as a Playback singer

In 1952, at the age of forty, Ustad Amir Khan began to sing for films. His first film was in Bengali - 'Kshudhit Pashan' or 'Bhuka Patthar' [A hungry stone]. Ustad Ali Akbar Khan had set tunes as the music director and Amir Khan sang the following songs:

1] 'Kaise Kate Rajani' - a bandish in raga Bageshree,
2] 'Piyake Awanki' – Thumri in raga Khamaj [with Protima Banerjee]

Pt. Debu Choudhury, famous Sitar player witnessed the recording of this 'Khamaj thumri' at the recording studio of 'New Theater', Calcutta and it lasted from 11.00 p.m. at night till 5.00 a.m. next morning.

The Song text of the only recorded 'thumri' by Amir Khan Saheb is:
" Piyake awanki main suniri khabariya, aang aang men umang uthat hai "

This film is occasionally telecast on Indian TV channels and one can listen to Amir Khan's music in the background score. If a VCD or DVD of this film is ever released, then one will be able to listen again to this music. However, the two songs are available on 78-rpm records, which repose in the hands of record collectors in India.

In the same year 1952, another film, 'Baiju Bawra', was released and Ustad Amir Khan contributed substantially as a consultant to the music director Mr. Naushad Ali. Prakash Pictures' 'Baiju Bawra' was set in the 'Mughal' period and is based on an encounter between two great singers, Tansen and Baiju. Hindustani classical music was at the focus of this film. It was unanimously decided that Amir Khan's voice would be suitable for the role of Mian Tansen. However, it was not clear who should sing for the role of Baiju in the climax song during the singing competition. Many names including Pandit Omkarnath Thakur were under consideration. However, Amir Khan suggested the name of Pandit D. V. Paluskar due to his 'Prasadik' (serene and devotional) voice. Pt. Paluskar had by then cut several 78-rpm discs. Ustad Amir Khan and Pt. D. V. Paluskar recorded a six minute jugalbandi in raga Desi ('Aaj gavat mana mero jhumke') and a great recording was thus created. Paluskar wrote down the notation of his part in a diary and this has been published in a Marathi book 'Parimal' written by his disciple Smt. Kamal Ketkar. Other Baiju songs ('Tu gangaki mauj', 'Mana tarpat hari darshanko aaj') are sung by Mohammad Rafi. Viewers rarely notice the fact that two different voices have been sued for the songs of 'Baiju', a role played by the actor Bharat Bhushan. Today, no one even remembers who played the part of Miyan Tansen in this film. However, the songs of Tansen, in the voice of Ustad Amir Khan, are well-remembered by music lovers as well as cine-goers. The title song of this film is a bandish in raga 'Puriya Dhanashree' sung by Amir Khan. He had also sung an alap in raga Darbari and recorded 'Ghanan ghanan ghan garjo re' in raga Megh. This Megh composition was not included in the film. However, all these three songs were released on 78-rpm records. Later, he also recorded a composition 'Daya karo re he giridhar gopal' for the film 'Shabab' (again under the music direction of Mr. Naushad Ali). He did not receive any payment for this recording, an omission noted in Pt. Tejpal Singh's book. Today, VCDs and DVDs of these films are widely available, and one can listen to Amir Khan's music from the Original sound tracks.

In 1955, the music director Vasant Desai invited Khansaheb to record the Lalat composition 'Jogiya mere ghar aaye' for a Marathi film 'Ye re majhya maglya', and a 78-rpm record was cut. The music director O. P. Naiyaar recorded the same composition for the title song of the Hindi film 'Ragini'. Khansaheb has narrated, 'I was called for the recording. The recording was over in just two minutes and was accepted. It was a little over a minute and a half, and the time taken to tune the tanpura lasted longer! If they had recorded my song for a little more time, they would have obtained a three minute 78-rpm record'. This is an example of how some of the renowned music directors had strange attitudes towards classical music.

Khansaheb gave recordings for a few films produced by his disciples. Mr. Mukund Goswami of Bombay produced two religious films. Amir Khan sang 'Ae mori aali, jabse bhanak pari', a composition in raga Darbari for the film 'Jai Shree Krishna'. In another film, 'Radha Priya Pyari', he sang the same composition ('Ae mori aali') in jhaptaal. Another disciple, Pt. Amarnath, produced a documentary film on Mirza Ghalib. Khansaheb sang the famous Ghalib gazal 'Rahiye aab aaisi jagah chalkar jahan koi na ho' for this documentary. One does not know if these films (and the documentary) are available today.

Amir Khan is best known for his playback singing in two films: 'Jhanak Jhanak Payal Baje' (1955) and 'Goonj Uthi Shahanai' (1959). Mr. Vasant Desai composed the music for both films. In 'Goonj Uthi Shahanai', he has sung raga Bhatiyar (Nisa dina barasat) in a duet with the shehnai played by Ustad Bismillah Khan. In a ragamalika duet, the two perform a continuous set of eight ragas (Ramkali, Desi, Shuddha Sarang, Multani, Yaman Kalyan, Sur Malhar, Bageshree and Chandrakauns) in just six minutes. HMV released 78-rpm records of Amir Khan and Bismillah Khan based on the recording for that film.

The title song, 'Jhanak Jhanak Payal Baje', in Raga Adana, made him famous throughout India and abroad. This was the high-point of the film. During the recording of this song, the producer Mr. V. Shantaram was quite restless since it was taking a long time to synchronize the chorus with Khansaheb's singing. Mr. Vasant Desai calmed him down and the song made history. During the golden jubilee celebrations at Liberty cinema in Bombay, Khansaheb was invited to sing this composition at the ceremony and he sang it for a much longer duration. VCDs and DVDs of both these films are now available.

What was the gharana of Khansaheb's gayaki? He himself has replied, 'Gharana is not known with any person's name but is associated with a place. 'Indore' was a place where many great musicians sang and played. I have listened to many performers and put them together in a style and named it as the 'Indore' gharana'. The musicologist Mr. Vamanrao Deshpande mentions this gharana in his Marathi book 'Gharandaj Gayaki'. He describes it as a 'swar-pradhan' gayaki in which musical notes and song/bandish text are important. Khansaheb was very particular about the correct and meaningful pronunciation of words and notes.

Disciples

There is a common misconception that Amir Khan had no disciples: this notion is dispelled by Pt. Tejpal Singh's Hindi book. He has given details of Kahnsaheb's 'Ganda-baddha' disciples with photographs. Some of his disciples were:

Delhi – the late Pt. Amar Nath, Tejpal and Surinder Singh (Singh brothers), Munir Khan (sarangi player), Ajit Sinh Pental, Amarjit, R. S. Bisht, Shankar Majumdar.

Calcutta – A. T. Kanan, the late Shreekant Bakre, Smt. Purvi Mukherjee, the late Pradyumna Mukherjee, Kankana Banerjee, Sunil Banerjee.

Jalandhar – Shankarlal Mishra, Surendra Shankar Awasthi.

Simla – Bhimsen Sharma.

Indore – Narayan Rao, Devbaksha Pawar.

Rajkot – Gajendra Bakshi.

Bombay – Mukund Goswami [mentioned above as film producer of two religious films].

Mr. Mukund Goswami was the Mathadhish (chief priest) of the temple of Vallabhacharya Sampradaya (cult) in Kalbadevi area in Bombay. He was the devotee of Khansaheb's music and learnt music as a disciple. He used to play the Saraswati Veena. Khansaheb sang at the temple on a number of occasions and excellent recordings of his singingf are preserved in the collection of this Sampradaya.

Pt. Gokulotsav Maharaj of Indore is also mentioned as an indirect disciple. This is because he never met and learnt from Khansaheb but learnt from radio programs and recordings. He imitates Amir Khan's gayaki very well. Bhavnagar's Pandit Rasiklal Andhariya, Mumbai based sarangi player Sultan Khan and the sitar player Pandit Nikhil Banerjee from Calcutta also show the influence of Khansaheb's gayaki.

Exploring the origins of the Tarana

Perhaps the greatest contribution of Ustad Amir Khan to Indian music is his study of the Tarana form. He was awarded a fellowship by Bihar Academy. It is not clear whether his research and findings were recorded and whether these are available with the Bihar Academy in print or in any other form. He researched the Tarana form quite thoroughly, and used to sing taranas in almost every concert. Sometimes, he used to explain the tarana composition and its meaning.

The tarana is believed to have origins in the 13th century. The great poet, musicologist and administrator Amir Khushro was a disciple of Hazrat Nizamuddin Aulia (Avalia). Amir Khushro composed taranas for his guru. After the death of Hazrat Nizamuddin Aulia, Amir Khushro spent the rest of his life at his tomb and composed a number of taranas. He breathed his last at the tomb of his guru. Today, Hazrat Nizamuddin is a Railway station in Delhi and an express train is named after Hazrat Nizamuddin.

Amir Khushro's work consists of the poems with verses containing specific words which are repeated during a vocal performance. These poems/verses are devotional in nature. In any religious song, repetition of words is necessary. These repetitions are useful to devotees in reaching towards God or Allah through 'Nama Smarana' or 'Japa'. In the Sufi cult, music is used invariably in singing taranas. The meaning of some of the 'Pharsi' words used in taranas are:

Dar – Bheetar, Aandar (inside)
Dara – Andar Aa (get in or come inside)
Dartan – Tanke Aandar (inside the body)
Tanandara – Tanke Aandar Aa (Come inside the body)
Tom – Main Tum Hun (I am you)
Nadirdani – Tu Sabse Adhik Janata Hai (You know more than anyone else)
Tandardani – Tanke Aandarka Jannewala (One who knows what is inside the body)

One of the simplest tarana compositions is this: " Dara dara dartan, darat dartan dartan "
It means: 'Aandar Aao, Tanke Aandar Aao'

Simple words used for addressing Allah are:

'Ya La La La Lom', which means Alla, Alla repeated several times.
Ye, Yali, Yale, Yala, Yalale: these are short forms of 'Allah'.

Kumar Gandharva has sung the tarana 'Yala Ya Yala Yallari' which is available on tape and CD. However, the inlay card does not explain the meaning of these words and the purpose of this tarana. If music companies and musicians take the trouble to explain their significance to uninitiated listeners, music lovers will benefit a lot.

A tarana is usually sung by Sufi saints during their prayers. They sing taranas in a state of trance or in a 'Hal' mood. Often, they dance during the state of ecstasy. Unfortunately, due to various reasons, musicians did not take the trouble to understand the meaning of these 'pharsi' sher and words. They treated these compositions merely as a way of showing off their skill in fast tempo singing. Today, if anyone wants to know what a tarana really means, then over 400, 000 sites can be visited on the internet. The most common description of the tarana is reproduced below from two representative sites:

'1] Taranas are songs that are used to convey a mood of elation and are usually performed towards the end of a concert. They consist of a few lines of rhythmic sounds or bols set to a tune. The singer uses these few lines as a basis for very fast improvisation. It can be compared to the Tillana of Carnatic music.'

'2] Tarana: This is a vocal composition that is usually sung in a fast tempo using syllables such as na, ta, re, da, ni, odani, tanon, yalali, yalalam, etc. Sometimes, Pakhawaj bols or Sargams are also used. The difference between the Drut Khayal and Tarana lies in the text. In the Khayal, the fast type is usually a meaningful poem while in a Tarana, there is no poem as such and the emphasis is on producing rhythmic patterns with vocables. The Tarana is set to a raga and Tal. The Tal can be Teen-tal, Ek-tal, Jhumra, Ada-chautal and so on and its tempo can range from Vilambit to Drut. Tarana singing requires specialization and skill in rhythmic manipulation. The late Amir Khan, Nissar Hussain Khan, Krishnarao Pandit and Kumar Gandharva were known for Tarana singing, as well. Among the present day singers, Ustad Rashid Khan, Veena Sahasrabuddhe, Padma Talwalkar and Malini Rajurkar include this form in their repertoire. The Tarana can have bols of Sitar, Pakhawaj and Mridang too, in addition to Sargams.'

According to Ustad Amir Khansaheb, due to the ignorance of the meaning of the words from a foreign language, many musicians added the tabla, pakhawaj and mrudangam bols to the tarana (e.g. Dha Kid Tak Dhum Kid Tak etc.) and distorted the form completely to please the audience. They exhibited the 'taiyyari' of their tongue to the listeners, but defeated the purpose of the tarana totally. Ustad Amir Khan was seriously concerned about this neglect, and he tried to enlighten listeners by singing taranas in many of his concerts and recordings. He has recorded the following taranas, though relevant information about them (as given below) is missing from the inlay cards/record covers.

1] Tarana in raga Suha:

'Sakiya Barkhej Dar Deh Jamra, Khaq Bar Sar Kun Game Aayyamra'

Meaning in Hindi: 'Ae saki! tu uth ja, mujhe jam de aur duniyaki taqliphonke sarpar khaq dal'

2] Tarana in raga Megh:

'Abre Tar Saihane Chaman, Bulbul O Gule Phasale Bahar
Saki O Mutrib O May, Yaar Be Saihane Guljar'

Meaning in Hindi: 'Badal bheege hain (phuhar baras rahi hai), aangan men chaman hai, wahan bulbul (bhi) hain, bahar ka mausam hai, saki hai, gayika hai, sharab hai aur chamanke aanganmen mera mehboob maujud hai'

3] Tarana in raga Hansadhwani:

'Ittihadista Miyane Mano To, Mano To Nista Miyan Ne Mano To'

Meaning in Hindi: 'Tere aur mere daryanmen ek aaisa talluk hai ki tere mere beech men main aur tu ka fark nahin raha gaya' (One-ness of the mortal and immortal)

Personal life

It is a matter of debate whether one should discuss the personal life of any legendary artist in public. Some argue that it helps in understanding the musician in his totality, and hence it is useful to study the personal aspects that have shaped the artist. The life of Ustad Amir Khansaheb was full of struggle. The period in which he was trying to establish himself as a professional artist was a difficult one. Royal patronage was diminishing gradually. The struggle for independence was at its peak and naturally performing arts did not have ample backing and support in society. During 1932 and 1942 he moved from place to place like a 'fakir'. Initially, he lived with his maternal uncle Mohammad Khan in Arab Lane, Bombay. Here he met Amanat Ali Khan, nephew of Ustad Rajab Ali Khan. Soon they became close friends. Juggan Khan, a table player introduced Amir Khan to Prof. B. R. Deodhar at his office in Dadar. He sang for him on a number of occasions. Later, Prof. Deodhar wrote about him in 'Sangeet Kala Vihar' – a magazine of the Gandharva Mahavidyalaya. In 1934/36, he also gave private tuitions in Bombay.

In 1936, his father asked him to join the services of Maharaj Chakradhar Singh of Raygadh Sansthan in Madhya Pradesh. The Maharaj used to sponsor musicians and send them to many music festivals and conferences. Soon he sent young Amir Khan to participate in the Mirzapur Conference. There was a galaxy of musicians at this conference: Faiyaaz Khansaheb, Inayat Khan Sitariye (father of Vilayat Khan), Pandit Omkarnath Thakur and Smt. Kesarbai Kerkar. Amir Khan sang in the 'Merukhand' style and the audience hooted him out in a few minutes. The organizers appealed him to sing a thumri, but he refused and left the concert stage. Soon he left the Royal court and returned to Indore. His father died in 1937. Khansaheb lived in Bombay until 1941 and then went to Delhi to teach Munni Begum, former disciple of Ustad Abdul Wahid Khan. (Later on he married Munni Begum). In Delhi, he used to live in Sadik Building on G. B. Road. He spent some time in Calcutta and used to live in the area inhabited by dancing (nautch) girls and 'kothewalis'. He sang in a Lahore conference just before Partition. Soon after Independence and Partition, the atmosphere in Delhi and Calcutta was quite changed. Hence, Khansaheb came to Bombay. He used to live near Congress House on Vallabhbhai Patel Road on the third floor in the room next to Gangabai. This place was full of prostitutes and singing girls and the area was known as 'Pila House'. Ustad Bade Gulam Ali Khansaheb, Ustad Ahemadjan Tirakhawa, and Ustad Abdul Wahid Khansaheb had also lived here, since they would get tuitions and disciples in this area. The atmosphere of the area never disturbed these musicians in their 'talim' and teaching. Khansaheb used to live here like a sage. Later on, he could afford to move to 'Vasant' building on Pedder Road, where he lived for the rest of his life.

Khansaheb's first 'Nikah' nama (marriage contract) was with the sister of Sitar Player Vilayat Khansaheb. Her name was Zeenat, and he used to call her 'Sharifan'. At that time, he was struggling and had a meagre income. This marriage did not last long. They had one daughter 'Fahmida', a charming, fair and tall lady resembling Khansaheb. She is now a leading homeopath in Bombay. Then he married his disciple Munni Begum of Delhi. This marriage lasted quite a long time. Khansaheb used to call her 'Khalifan' and his disciples would call her 'Amma'. She loved and cared for them like a mother. He had a son from this marriage: Ikram. This son did not have any interest in music. He studied Mechanical engineering, settled in Canada and in 1969 invited Khansaheb to Canada and organized a few concerts for him. Around 1965, Khansaheb married Raisa Begum, daughter of the thumri singer Mushtari Begum of Agra. He had expected that his second wife, Munni Begum, would accept the third wife. But she could not bear the shock and left home and was never seen again. It was rumored that Munni Begum drowned herself in Prayagraj near Allahabad.

In 1966, Raisa Begum delivered a son. A grand party was thrown and a wonderful jalsa was organized in Indore. His first birthday was celebrated at Karolbaug in Delhi. He was called 'Bablu' and registered in school as 'Haider Amir'. Khansaheb passed away when he was eight years old. After securing a B.Com degree he began to act on stage. Using the stage name 'Shahbaz Khan' he began to appear in films and in TV serials. His role of Haider Ali in TV serial 'Tipu Sultan' was very popular. Thus we see that the musical heritage of Ustad Amir Khan was not carried forward by his children. His younger brother Bashir Khan was a staff artist at Indore radio station and retired as a 'Sarangi' player.

Sunset

February 13, 1974. Khansaheb was in Calcutta. After dinner at a friend's house, he was returning in a car with a journalist friend, Shams-U-Jaman, and a disciple, Smt. Purvi Mukherjee. They were discussing Urdu literature. In the Southern Avenue area, they were traveling down Lanes Down Road. All of a sudden, a car from the opposite direction collided with their vehicle. The collision caused both cars to spin twice before colliding with each other again. Khansaheb was sitting near the door. On impact, the door opened and he was thrown out. He hit a nearby electric pole twice asa consequence of the sudden fall. His journalist friend and Purvi Mukherjee survived, but the driver died on the spot and Khansaheb passed away one hour later in the hospital. He breathed his last near the home of his first wife Zeenat. His last rights were performed by his former brothers-in-law: Ustad Vilayat Khan and Ustad Imrat Khan. He was buried in 'Gobra Kabrasthan'. Later, his son Ikram decorated this tomb with ivory stones. Khansaheb had planned to leave for America with Mr. Govind Basu and Pandit Nikhil Banerjee. He had been invited to visit San Francisco University as a Visiting Professor for one year. However, his fate had decided differently.

The sudden demise of Ustad Amir Khansaheb left the world of music shocked and grieving. Indore radio organized a special broadcast and someone in the program said, 'Teesare saptak par thahari taan aapni jagah tham gayi' [The taan that reached third octave remained there and did not descend]. His disciples commemorated the anniversary of his death for many years.

In 1976, HMV released an LP record from the live concert recordings of Ustad Amir Khan. In 1981, the INRECO Company released a record and tape of raga 'Chandramadhu'. His disciples Singh Bandhu, Kankana Banerjee and Purvi Mukherjee recorded ragas and paid musical tributes to their guru. Many music lovers have been collecting the recorded music of Ustad Amir Khan from before his demise. What was (and is) so great about his music? That is what future generations shall find out by listening to his legacy of recordings.

- Suresh Chandvankar
Society of Indian Record Collectors, Mumbai