Walking proof of Chirac's patriotism
Brussels
French President Jacques Chirac walked out of a European Union summit on Thursday after a French business leader spoke in English, adding linguistic patriotism to a simmering row over economic nationalism.
As Mr Ernest-Antoine Seillière, head of the Unice employers' federation started speaking to the EU's 25 leaders, Mr Chirac interrupted to ask why he was speaking in English, said a French official.
'I'm going to speak in English because that is the language of business,' replied Mr Seillière, former chief of the French employers' group MEDEF, which has been at odds with the government recently.
In a protest that sparked surprise among his EU counterparts, Mr Chirac then left the session, taking French Minister Thierry Breton and Foreign Minister Philippe Douste-Blazy with him.
But even though the language issue was important enough for Mr Chirac to walk out, some others barely noticed it.
Swedish Prime Minister Goran Persson said: 'That was not dramatic at all.'
Besides Mr Seillière, EU leaders also heard from European Central Bank government Jean-Claude Trichet, who is also French.
Mr Trichet caused his own flap previously when he spoke in English at the European Parliament in Strasbourg. This time, he opted for his native tongue.
Mr Chirac, 73, is an ardent defender of the Gallic tongue and his ministers returned after Mr Seillière had finished.
English has overtaken French as the EU's lingua franca, especially since it welcomed 10 new member states, mostly former Soviet communist bloc states, in May 2004.
Even in a globalised world where English rules, 'there is no language of business. There are as many languages as there are businesses,' a French diplomat said, speaking on condition of anonymity because Mr Chirac had not yet addressed the issue.
The EU provides guarantees for all official languages of member states and has an army of translators. Typically, officials at gatherings speak in their native tongues and their remarks are translated.
Paris has long led a losing battle to keep French and 'la Francophonie' a dominating force in politics, business and diplomacy, only to see English make ever deeper inroads. I has even had to fight a tide of 'Franglais' - the use of English terms - at home.
ASSOCIATED PRESS, AGENCE FRANCE-PRESSE
The Straits Times, Saturday 25/3/06, p. 41
Here is the report from The Times of London, 24/3/06
Chirac flees summit in a fury over use of English
By Anthony Browne
<![if !vml]>

<![endif]>
<![if !vml]>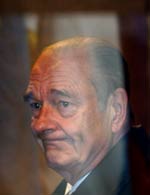 <![endif]>Chirac only returned to the summit when it was the turn of a French speaker to address the delegates (Yves Herman/Reuters)
PRESIDENT CHIRAC stormed out of the first session of a European Union summit dominated by a row over French nationalism because a fellow Frenchman insisted on speaking English.
President Chirac and three of his ministers walked out of the room when Ernest-Antoine Seillière, the leader of the European business lobby UNICE, punctured Gallic pride by insisting on speaking the language of Shakespeare rather than that of Molière.
When M Seillière, who is an English-educated steel baron, started a presentation to all 25 EU leaders, President Chirac interrupted to ask why he was speaking in English. M Seillière explained: "I'm going to speak in English because that is the language of business."
Without saying another word, President Chirac, who lived in the US as a student and speaks fluent English, walked out, followed by his Foreign, Finance and Europe ministers, leaving the 24 other European leaders stunned. They returned only after M Seilière had finished speaking.
The meeting was furnished with full interpretation services, and anyone in the room could speak or listen in any of the 20 official EU languages. Embarrassed French diplomats tried to explain away the walk-out, saying that their ministers all needed a toilet break at the same time.
In the absence of his President, M Seillière gave warning about the dangers of the "economic nationalism" being pursued by the French Government. The summit, aimed at restoring confidence in the future of the EU, has been overshadowed by a row over the tide of protectionism sweeping the continent, with Tony Blair and Angela Merkel, the German Chancellor, cautioning about the danger of raising barriers to foreign competition.
President Chirac, who recently denounced British food as the worst in the world after Finnish, has led an increasingly eccentric campaign to try to turn back the growing dominance of English in the EU and across the world. French and English are equal official languages in the EU, but the enlargement of the Union has entrenched the dominance of English.
Jacques Delors, the former President of the European Commission, used to ban journalists from posing questions in English in the press room.
When President Chirac had a one-to-one dinner last year with President Bush, he insisted on speaking his mother tongue the whole time, even though the US President could understand him only through an interpreter.
At one UN summit where there was no translation, President Chirac pretended not to understand questions in English and demanded that Tony Blair, who speaks French, act as his interpreter.
President Chirac has announced plans to start a French version of CNN to promote culture. He was furious when its managers disclosed that most of the output would be in English because otherwise few would understand it.
Here is Charles Bremner's weblog on this issue. Charles Bremner is Paris Correspondent for The Times and has previously reported from New York and Brussels.
Chirac

contre

l'anglais
There is something a little unhealthy about the way that the English-speaking world loves hearing about France's struggle to fend off la langue de Shakespeare. Every newspaper story on the subject guarantees chortles at breakfast tables from Sydney to Sidcup. The field is rich, what with language quotas in broadcasting and the 1994 law requiring French-only communications in business and advertising. That law, usually observed in the breach like so many French rules, produced its first conviction this month when a Versailles court fined a General Electric subsidiary for issuing its staff with technical manuals only in English. It may be silly to try to legislate language, but, gloating aside, why should a country not seek ways to promote its language and the ideas that it conveys? Quebec has managed to keep its French alive that way.
Often, though, the guardians of Gallic linguistic purity are their own worst enemies and no-one sets himself up better for mockery than Jacques Chirac.
On Thursday, the President stormed out of a European summit in Brussels, taking two ministers with him – because a Frenchman had begun addressing the session in English. The scene was piquant because the speaker was Ernest-Antoine Seillière, former chief of MEDEF, the French business association, who now heads the Europe-wide version (UNICE). Baron Seillière, a satanic figure in the folklore of France's anti-capitalist masses, was lecturing the 25 leaders on the evils of le patriotisme économique, the doctrine devised by Dominique de Villepin to justify France's current bout of industrial protectionism. That was enough cause alone to infuriate Chirac, but doing it in English was a provocation beyond his endurance. Seillière explained that he would use English because it is the language of business. It is also of course the common language among all but two or three of the 25 EU leaders.
The incident, only briefly reported in France, could be read as a fine example of France's Quixotic battle against reality. In truth, though, it said more about the way that Chirac and the governing classes are out of touch with much of their own the country. The resistance to English has long ago faded among the younger generation and the world of business and technology. Look at the French readers who join in the chat on this blog.
Older café waiters may still respond to English-only customers with a withering blast of French, but many deal with non-French patrons in English – whether they are Chinese, Spanish or whatever. Few of the younger generation subscribe to Chirac's view – which he expressed on a visit to Vietnam two years ago – that English is an inferior means of communication. I wonder how many older French accept the Chirac idea that French is in danger of being over-run in a universal battle to shape human civilisation.
The trouble is the way that Chirac (an English speaker) and his predecessor François Mitterrand (who spoke no English) turned the language into an often comic crusade in the name of chauvinism (good French word). Chirac long ago banned his ministers from using English abroad. I have witnessed absurd moments at summits when ministers chat away in English and switch into French when the boss appears and then back into English when he passes. The same Thierry Breton, Finance Minister, who walked out with Chirac on Thursday, happily used English at a lunch for reporters in his Paris ministry on Wednesday.
For Chirac – and even more for the poet de Villepin – the language is the sacred essence of Frenchness, to be defended at all costs. This means hundreds of millions of tax-payers' euros per annum in the form of subsidies. These go to la francophonie, the community of French-speaking nations, which by the way includes Bulgaria, and to such extravagances as the Arte Franco-German television channel and Chirac's new baby, the CII, or Chaîne d'Information Internationale (CII). This is the 'French CNN' which Chirac commanded in the heat of the Iraq crisis to combat the global power of the American and British news networks. Chirac has given the CII, which is supposed to go on the air by the end of this year, the grand mission of 'bearing everywhere French values and France's vision of the world'. The state-run channel was given another boost by the 'caricatural reporting' by les Anglo-Saxons of France's riots last autumn. The gloating outside France was therefore inevitable when the CII's bosses suggested this month that le regard français sur le monde may be mainly broadcast.... in English.
The Paris international book fair, which has just closed, made la francophonie its theme for this year, which is perfectly reasonable. Last year Russian had the honour. To encourage French-language writing, 40 authors kept up a daily forum around an 'arbre à palabres' (chatter tree) in the show's pavilion of honour.
Chirac of course weighed in with the usual excess. 'Defending la francophonie means defending a certain idea of culture, of the future, of that part of the universal which has always been born by France,' he told the salon. The French language enabled everyone who used it to 'express in the same language all the nuances of the human experience.' Embattled French defenders might note that all the key words in that sentence came to English from French or its Latin ancestor. (...expriment, dans une même langue, toutes les nuances de l'expérience humaine). The President could also not resist his usual swipe at English. 'Nothing would be worse for culture and civilisation than the evolution towards linguistic uniformity,' he told the book fair.
UPDATE: Chirac has explained his Brussels beau geste on behalf of the language today. 'I was profoundly shocked to see a Frenchman express himself in English at the (EU) Council table. That's why the French delegation and myself walked out rather than listen to that.'
Fighting to keep the place of French was a vital cause, he said. 'It is not just national interest, it is in the interest of culture and the dialogue of cultures. You cannot build the world of the future on just one language and, hence one culture.'
French reaction has varied, judging by the chatter around Paris. Gaullist MPs have praised Chirac's grand act in defence of the language while Le Monde mocked him in a front page cartoon. Some Socialist MPs said they were appalled that the head of state was making a fool of himself while his country was teetering on the edge of revolt.