<![if !vml]>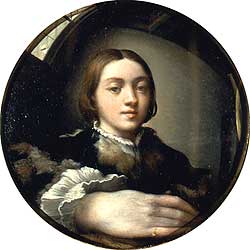 <![endif]>
Q1. What attracts Ashbery to Parmigianino?
1a: That he likes the subject-matter: a self-portrait?
1b: That he likes his style: whether Mannerist or pre-Mannerist?
1c: That he likes his novelty: the use of a convex mirror?
1d: Some combination, or all, of the above?
Q2. Why did Parmigianino choose to paint a self-portrait, on a curved surface, replicating the effect produced by an image in a convex mirror?
Q3. What does Ashbery derive by way of insight, pleasure or understanding from looking at, and reflecting on, the painting?
Q4. What is the nature of the relation set up by Ashbery between the poem as text and the painting in reproduction as image?
Q5. How does that help us see the painting in a new light? and poetry?